Description
Sunflower Stickers
These are really funky, not just to be used on internal surfaces, easy to fit to your car or any other glossy surface.
Printed onto HIGH quality vinyl, UV and weatherproof, this will easily add a bit of sparkle and individuality to any object.
Don't forget we sell larger packs of these as well, easy to fit just peel and stick.
Approx. Sizes:

1 @ 190mm
4 @ 100mm
6 @ 60mm
15 @ 25mm

5 Star Customer Comments:
Great Fun!
I decided to embrace our new oil tank which is just outside the kitchen window rather than try to hide it as a fence would block out more light. The sunflowers are great fun and look great along with the `eyes' that I bought at the same time . They are nice and bright, were easy to apply and hopefully will last for a while.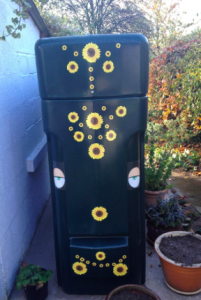 Fabulous
Fabulous decorated a pair of trug planters which were looking a bit sad. New lease of life.
Perfect
Perfect for a wedding post box I needed to decorate. Lots of stickers to play with and arrived really quick. Thank you!
Five Stars
I love these – as do other members of the family who have stolen them for their own rooms!
Lovely Sunflowers
Came very quickly, absolutely love them, very easy to use, would buy again, easily peal off and stick to surfaces well.
Perfect for the job
Delighted with these decals, which I wanted for my car – very easy to apply. Good mix of sizes.
Have used them before, and they are very weather/wash resistant. Contrary to another review – they are pre-cut, just need peeling off the backing sheet.
When you get fed up with them, or just want a change, that can be removed by gently blowing warm air from a hairdryer, which will soften the adhesive and allow you to peel off the sticker fairly easily.
Very happy driver!