Description
A set of high quality external vinyl stickers for your car, bedroom, wall etc.
Just choose your colour.
These are easy to apply and come in one piece.
Both sides are included
Approximate diameters are:
20 @ 120mm
22 @ 80mm
16 @ 50mm
5 Star Comments from our Customers:
What a difference.
Well pleased. Dots have really made my car different. Get smiles wherever we go.
Very Happy!
Easy to apply and my car looks too cute! 🐞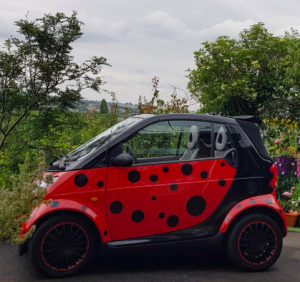 Car Graphics!
AMAZING value spots for my wife's "ladybird" car – Thank you.
Love my Ladybird Stickers!
I wonted something different for my car looking at the internet came across your ladybird stickers and thought it would look great on my  Hyundri 110 and its looks great love it thanks.
Love them!
Came really quickly and go on and stay on well. Use the smaller ones in the pack first as it takes a while to get the technique. You get loads of them and the array of different sizes is perfect. Very happy 🙂
Perfect
They were just what I was looking for, arrived in time and were good value for money, would certainly recommend them.
Ladybug
I have a small red sporty looking car that already has car lashes on it. I love ladybugs so I have ladybug matts and coasters in my car and a ladybug sticker on my windshield. All she needed was the black dots all over the outside of my car and she now looks like a ladybug! I LOVE it! I get lots of "thumbs up" when driving around! My husband won't drive it anymore! Lol